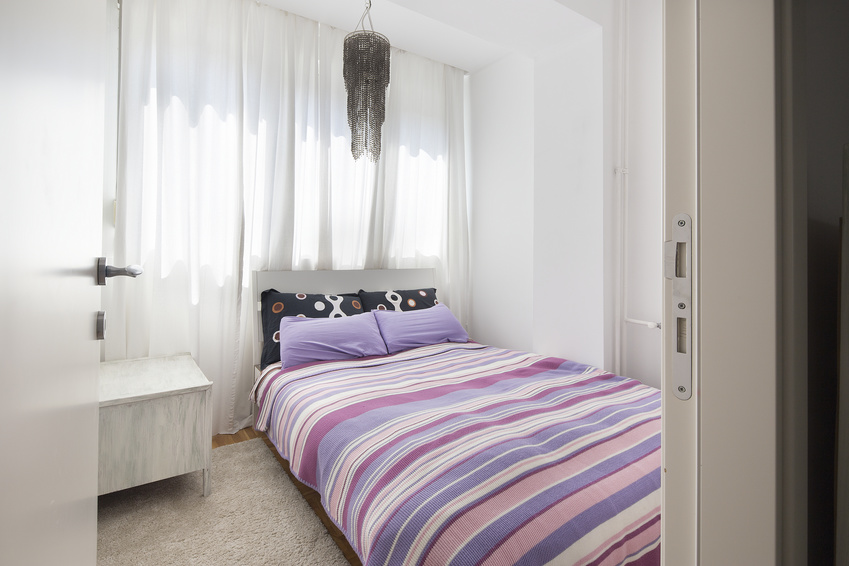 Your bedroom should be your safe haven, infused with feelings of simplicity and relaxation. In order to create such an atmosphere, a bedroom requires proper furniture. Bedroom dressers keep the room neat by hiding clothes, shelves provide books and photo storage, and even bedside tables create a much-needed place to keep essentials. Without these necessities, a bedroom just doesn't feel settled.
While it would be nice to have many great pieces of bedroom furniture, in some homes, restrictions apply. Specifically, size restrictions can make proper bedroom organization and storage difficult. What do you do when you need a walk-in closet, but barely have space for a bedroom dresser?
Luckily, furniture crafters know that some bedrooms aren't quite big enough for full-size bedroom sets. If you're lacking storage and furniture space, here are a few clever ways to make the most of your tiny bedroom:
Choose a Smaller Bed frame
When arranging furniture in a narrow or cramped bedroom, every inch of space counts. Instead of choosing a bulky sleigh bed or canopy-style frame, opt for a smaller and simpler bed frame. Mission bed frames, for example, are crafted with simple wood designs and space-saving straight lines. Look for platform beds with limited overhang on either side of the mattress, and skip the foot board for a more spacious feel. Additionally, choose a bed with a slightly higher frame, so that you have the option to store drawers or shallow baskets under the bed. By limiting the size of the bed and frame, you can create a much more open-feeling space.
Incorporate Clever Storage Items
Look for creative ways to include more storage space without taking up floor space. Though under-the-bed storage is a good start, there are plenty of furniture styles that offer additional storage room. Try floor-to-ceiling shelving or other vertical storage solutions. Consider placing a storage bench at the end of your bed for extra seating and a place to keep linens. Finally, be sure to choose bedside tables that double as small bookshelves or cabinets, so that you have a place to set your glasses and somewhere to hide knick-knacks, underclothes, or books.
Seek Simplicity
Purging unnecessary belongings can help a room seem significantly more spacious. Skip piles of bulky throw pillows for two or three quality sleeping pillows. Consider removing any T.V. or entertainment stand that might be taking up space in your bedroom. You can even exchange several pieces of mixed bedroom furniture for a single bed frame and bedroom dresser for a clutter-free relaxation space.
Families all over the U.S. are redecorating and upgrading their bedrooms. In fact, 48% of homeowners planned to redecorate their homes in 2018. If you think it's time for a change, but are struggling with updating a smaller bedroom, try using the tips above. With clever planning and a simple mindset, you can transform any cramped bedroom into a more open and relaxing sleeping space.