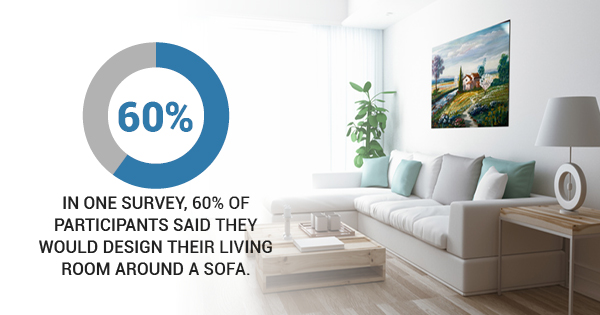 Your living room should be both a place of relaxation and a place for entertaining and community. A well-designed living room or family room incorporates flexible seating options, so that family and guests can have great conversations, enjoy drinks by the fire, or settle into comfortable furniture while watching a movie.
One great piece of furniture that can elevate your living space is a loveseat. Loveseats are slightly shorter than couches, offering enough space for about two people to sit comfortably close side-by-side. Here's how loveseats can add personality and comfort to any space:
The Many Benefits of Loveseats
Before you decide against buying a loveseat, consider the following benefits that come with this style of seating:
Better Use of Space
Loveseats are a great seating option for tiny, awkward rooms. Due to its compact proportions, a loveseat can fill out an unusual corner or bring comfort to an empty space in an area your home. For example, an overly-spacious master bedroom can be made more luxurious with a loveseat at the end of the bed. Alternatively, a sturdy loveseat can be a great addition to an office or reading area that doesn't have quite enough room for a couch.
Matching Ability for Good Design
Many furniture sellers offer living room sets that include a matching loveseat and couch. Since 60% of participants said they would design their living room around a sofa, choosing a loveseat to match is a logical design step. With a sofa set, you can create an elegant room without the hassle of choosing colors and textures that harmonize. Alternatively, you can pair two matching loveseats with a large ottoman to bring bold visual balance to a room.
Useful Beyond the Living Room
Though loveseats, like sofas, are traditionally living room furniture, their size makes them a great addition to any space that needs comfortable and tasteful seating. An enclosed porch with this style of seat can be an oasis of indoor-outdoor relaxation. Place a sturdy small sofa near the entryway for easy shoe removal. If you have an open floor plan that combines your kitchen, dining, and living room, a loveseat offers versatility to create natural flow between spaces.
Fun to Rearrange
Due to its small size, a loveseat is fairly easy to move from room to room, or to turn and adjust in within a living space. If you're someone who likes to change up the layout of their home for new and exciting interiors, a mini sofa grants incredible seating flexibility.
Before you ditch the loveseat in favor of arm chairs or sofas, consider these convincing benefits. Loveseats are comfortable, adaptable, and make a great addition to nearly any room in the house.
For quality mission style living room furniture, including fine loveseats, couches, end tables, and more, contact The Mission Motif today!